Identity brings several customization options. Of the design solutions, it is sure to impress with the backrest, frame legs or seams, which emphasize the simple square lines of the seat. Identity does not lag behind in terms of functionality either: adjustable headrests, extendable seats or an additional stool make this set a highly flexible solution for every home.
If you are looking for a robust and durable seat that impresses with style and provides a wide range of applications, Identity is an excellent choice. You can assemble the set from several separate modules and add any of the accessories like USB socket or design legs. A wide range of materials and colors is a matter of course, thanks to which Identity fits into any style.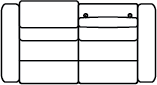 Reclining capability
With the built-in recliner function, Identity allows for change in seat depth that increases comfort. This way you can have both a formal sofa for visits and a laid-back longchair when watching movies. Optionally, Identity can include integrated electronic control of the recliner on one or more furniture segments.

The adjustable headrests
offer even higher level of comfort. Identity can adapt to everyone, regardless of body shape and personal sitting preferences. This makes the stylish sofa with low armrests even more functional.
Interested in our sofa? Please feel free to contact us with your questions or have us prepare a quotation for a sofa in the design you selected above.
Simply provide your name and contact details, and we will be in touch shortly.