Our armchairs, inspired by retro style, are firm and airy at the same time. Thanks to the solid construction and soft seat, they guarantee maximum sitting comfort. They stand out perfectly in the living room, relaxation room or men's lounge. Thanks to the wide range of colors and structures of upholstery fabrics, it is possible to easily match them with any interior.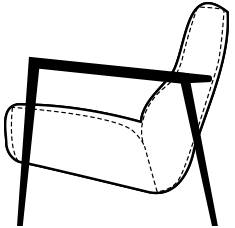 Bueno
The Bueno armchair stands out in the living room as a solitaire and at the same time does not overwhelm the space with too much mass, it is solid and airy at the same time. The original simplicity is reminiscent of retro armchairs, but the detail of significant sewing creates an accent of contemporary modern. The double material combination — wooden armrests and fabric or leather upholstery emphasizes the two poles in the solid character of the armchair. It is also characterized by the strength of the structure and the flexibility of the seat, which guarantee comfortable sitting with a book or coffee in your hand.

Northon
The Norton armchair is based on the design solution of the Bueno. The attribute of firmness and airiness, which he retained from the Bueno variant, is a guarantee of a good choice. The visually effective metal crossing not only strengthens the wooden structure of the linked armchair legs with armrests. The metal element already at first glance evokes elegance with a touch of industrial style. It is this armchair that offers wide possibilities of its application in space and purpose of use.

Barletta
The Barletta armchair, like the Bueno, is designed in a vintage style. It refers to the Bauhaus design era of the thirties not only in its appearance, but also in the choice of tubular metal. This is used in the effective element of the legs and arm rests, united in a light square structure resembling a frame.
The functionalist idea is underlined by the simple line of the seat and backrest without any decorative details. The metal armrest has a cover in the touch part of the same material as the upholstery cover. It is not only an aesthetic element, its purpose is also user comfort, i.e. softening the touch and a warm feeling to your arm.
Interested in our sofa? Please feel free to contact us with your questions or have us prepare a quotation for a sofa in the design you selected above.
Simply provide your name and contact details, and we will be in touch shortly.