Orlando is a proven classic in comfortable seating. Thanks to its inconspicuous, clean design and almost invisible sewing, it easily fits into any living room, no matter what style it is furnished in. You can fine-tune the details yourself by choosing the materials and colors of the cover and legs.
Comfort comes first – adjustable seats and adjustable headrests adapt the seat to different types of sitting. Combined with the possibilities offered by the modular construction of the sofa, you will get a stylish piece of furniture that will not bore you even after years.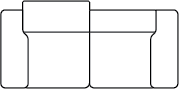 Retractable seats
Thanks to the rectractable seats, you can adjust the depth of sitting and set the position that suits you. The feed is electric, while the seat simply extends further away from the backrest or, conversely, slides deeper into the seat.

Adjustable headrests
With adjustable headrests, the seat quickly adapts to different body heights or sitting style. When you don't need them, you simply fold down the headrest to give the set a stylish low-profile look.
Interested in our sofa? Please feel free to contact us with your questions or have us prepare a quotation for a sofa in the design you selected above.
Simply provide your name and contact details, and we will be in touch shortly.