The Krošlák metal production shop handles our customer's most diverse requests and brings their vision to life. The shop produces prefabricated parts and finished metal components for the furniture industry; it also focuses on contracts for atypical parts, semi-finished products and structures from various industries. It has the flexibility to set specific criteria for each customer individually.
I am interested in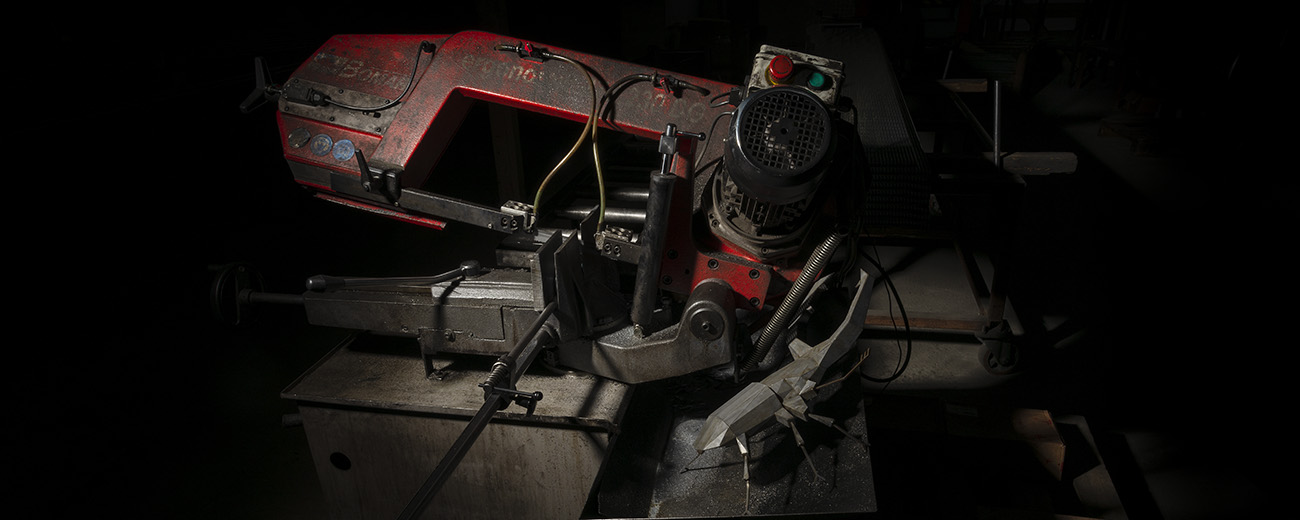 The process for making metal products starts in the cutting workshop. Two initial production operations are performed here: cutting and bending. The entry material is composed of semi-finished metal products such as sheet metal, bars, tubing, wires and metal profiles with differing parameters.
Three manual, horizontal and vertical band saws are available for cutting, as well as two automatic saws and hydraulic cutters. The workshop also features equipment for burring material.
For bending material, the workshop's team uses the HACO 3000 bar bender and press brake, which can shape metal plate and slabs. In 2013, the company added to the workshop's equipment with the HOL 40 NC/E press brake.
Cutting
Automatic saws with feeder
• max. clamp opening: 300 x 300 mm
• cutting precision: ± 0,1 mm
Manual band saws
• suitable for bars, slabs, round tubing and square tubing
Hydraulic cutter
• suitable for cutting sheet metal
• sheet metal thickness: from 0.4 mm to 6 mm
• max. sheet metal length: 3,000 mm
Metabo crosscut and mitre saw
• suitable for cutting aluminium, wood, layered panels and plastics
• saw head angle: 0° – 45°
• turntable adjustable in both directions up to 45°
Bending
HACO 3 000 hydraulic press brake
• bending and profiling sheet metal pieces
• sheet metal thickness: from 0.4 mm to 6 mm with a maximum length of 3,000 mm
• sheet metal thickness: from 8 mm to 12 mm with a maximum length of 100 mm
HOL 40 NC/E hydraulic press brake
• bending power: 40 tons
• max. sheet metal thickness: 0.4 mm – 6.0 mm
• max. sheet metal length: 1,000 mm
Multi-level tubing bender
• able to bend circular tubing and steel with a Ø of 8 – 40 mm and wall thickness of 2 mm
• min. dimension: Ø 5 mm
• able to bend square tubing with dimensions: 30 x 30 x 2 mm
• max. bending radius: 200 mm
• max. bending angle: 200°
• min. bending angle: 10°


The feet, plinths and frames of upholstered furniture, the structures for adding foam, the tilting metal frames and other mechanisms used in sofa beds, which currently make up a substantial proportion of Krošlák's metal production undergo several different processes in the press shop.
The cutting of sheet metal and slabs is ensured by six eccentric presses with a maximum pressure of 25 to 100 tons. Holes can be made using the technology of perforating and extrusion. Bending and straightening sheet metal, bars, circular and square tubing is naturally also possible, as well as pressing material into bent shapes.
As well as the eccentric presses, the workshop is also equipped with an injection press for making small plastic components. A riveting machine, manual milling machines, lathes, column drills and a flow drill are also used.
Eccentric presses
• 3 presses with a max. pressure of 25 tons
• 2 presses with a max. pressure of 63 tons
• 1 press with a max. pressure of 100 tons
• enables cold-press operations: cutting, perforating, bending, straightening, extruding, riveting, stamping, shallow drawing
Lathes, 2 pcs
• turning components with a size of up to 200 mm
• suitable for making rivets, screws, pins; making threads (metric, Whitworth); pricking out components
• max. turning diameter of the lathe: 355 mm
Large milling machine
• table size: 300 x 1 370 mm
• max. weight of item: 250 kg
• diameter of spindle in front bearing: 75 mm
• travel: 13 degrees – lengthwise and crosswise with a speed of 14 – 900 mm/ min
• perpendicularly with a speed of 4 – 250 mm/min
Small milling machine
• table size: 600 x 250 mm
• crosswise and horizontal milling
Injection press
• suitable for making various small plastic components
Riveting machine
• enables the riveting of fixed and rotating rivets with a diameter of 4 – 12 mm
Column drills
• for drilling, boring, thread cutting
• drilling parameters: Ø 3 – 50 mm
• thread cutting parameters: Ø 4 – 10 mm

Krošlák's metalworking department does not make only semi-finished and finished products for the furniture iindustry; it also has experience producing various atypical items and structures made of iron and stainless steel. Another department which these products pass through is the grinding workshop. Here, workpieces are given their required surface quality as well as finished edges.
Grinding and polishing is carried out either manually or using machines. The workshop has galvanic grinders and an Opti BSM 150 belt grinder in which sandpaper with a grit of 40 to 1,200 can be used. In terms of kinematics, the workshop's equipment enables rotary grinding and face grinding.
Machining processes ensured by the grinding workshop also include bending various sections and cutting to the required dimensions or riveting. This is followed by the final inspection of quality and dimensions in master jigs.
Belt grinders
• 7 pieces
• grit: 36 – 2,500
• rotary grinding and face grinding
• suitable for grinding radii
Opti BSM 150 column grinder
• dimensions of grinding belt: 150 x 2,000 mm
• belt speed: 33 m/s
• adjustable belt angle: 15° – 30°
Hand-held grinders
• eccentric, angle, belt grinders for tubing, straight and surface finishing grinders
Hand-held nut riveters
• enables screws to be inserted into the rivet to join materials together
Blind rivets riveter
• enables the fixed (non-removable) connection of materials
ZOPF ZB 80/2M bending machine
• suitable for bending sections, circular tubing, square tubing, L-sections, slabs, T-sections, oval and flat oval sections


During almost three decades of its existence, Krošlák's metalwork department has carried out various assignments. New products included in the production process require research and development in every workshop. One of the most essential stages takes place in the welding workshop. Here, two fusible materials are joined together using local melting, fusion and subsequent cooling.
The workshop's certified staff are currently able to weld iron and stainless steel using MIG (CO2) and TIG welding. For chrome-plated items, the method of autogenous welding is used, with brass as the filler metal. A column spot welder is helpful for spot welds.
Even complicated weldments pose no problem to the experts in the workshop. Furthermore, the welding jigs made for each item guarantee the precision of their work.
OERLIKON Citoline 3000T welding machines
• 9 pieces
• CO2 and MIG/MAG welding
• digital measuring tool
• 2T/4T regimes and spot welding
• possibility of switching polarities
• suitable for welding with stick electrodes (without gas)
• 2 output chokes
T220 LORCH welding machine
• TIG welding
TECNA TE 25 welding machine
• column spot welder
FLOT drill
• enables drilling and thread cutting using the FLOWDRILL method
Column drills
• 3 pieces
• enable drilling, boring and thread cutting
• drilling parameters: Ø 3 – 30 mm
• thread cutting parameters: M4 – M12


The surface of metal products can further be treated by powder coating, using so-called Komaxit. This is a technology where a layer of fluidic dry powder is applied to the surface. The main difference between conventional liquid paints and powder paints is that
powder paints do not require solvents. The layer of paint is applied electrostatically and is then hardened by heat. The powder can be thermoplastic or a thermosetting polymer. The final layer is harder than in the case of ordinary paints. It provides protection against corrosion as well as giving an aesthetic appearance.
Four trained employees apply the layer of powder coating manually, and thus guarantee that the product surfaces are impeccable. The workshop is equipped with three powder coating cabins. Three furnaces allow products with maximum dimensions of 1,200 x 800 x 3,000 mm to be fired.
Powder coating cabins
• 3 independent ventilation units
• max. size of powder-coating products:
• 1,150 x 750 x 3,000 mm
• possibility of choosing a colour using the RAL chart, or according to the customer's choice in the case of long-term contracts
Firing furnaces
• 3 independent chambers
• max. dimensions of fired products:
• 1,200 x 800 x 3,000 mm
• fired at a temperature of: 180 – 200 °C

High-pressure injection foam technology is a flexible alternative to cut foam, enabling the production of components in complicated shapes with differing parameters.
The process is based on injecting a mixture of isocyanate and polyol into closed or open moulds. Once cooled, the foam component can be worked with immediately. This technology is best adapted to high efficiency serial production.
Its advantage is that it produces an exact component, thus avoiding the processes associated with cutting or gluing large blocks of PUR foam. This speeds up production and eliminates waste. In addition, the comfort and overall properties of injected foam are more consistent than those of cut foam. Using this technology, even more delicate components can achieve a high level of comfort.
The Krošlák workshop has a long tradition of producing internal structures for injection foam components, using various materials and components such as metal, serpentine springs, wood or webbing. Until recently, these structural elements used to travel to western Europe for further processing, but thanks to our new technology, Krošlák can now also supply sofa structures complete with injection foam. And we can upholster them, too, naturally.
We are thus able to cover the whole production process and offer our partners a complete product.
Hennecke Highline
high-pressure metering machine with a ratio of A:B = 1:1 (650:650 cm3/s) and an MT mixhead for producing foam components for furniture
excellent mixing quality thanks to the highly efficient mixhead and injector technology, and first-class pump technology from the global market leader
high metering accuracy, adherence to formulations and compliance with desired
part weights
total output: 1 300 cm3/s
work tanks with a volume of 60 and 250 litres


Production and dispatch at Krošlák works to a weekly pattern. The loading of goods into the twenty lorries despatched weekly takes place on platforms monitored by CCTV, thus ensuring the correct loading of goods and any further control. The majority of customers organise their pickup themselves, but Krošlák's logistics department is also available.
Staff load and organise goods following instructions given in advance, which ensure simple unloading at their destinations. Combined lorries can also be loaded, already containing products from other manufacturers.
Damage to the products during transport and handling is prevented by the packaging,
whose technique is the result of 25 years of development and experience in Krošlák. Various materials are used; depending on the type of sofa, it is corrugated cardboard, thin film and a thick outer film. In the case of leather sofas, bubble wrap is also used. Stainless steel and chrome parts are wrapped in polyethylene foam and for premium products, packaging in a thick cardboard box is also possible.

Krošlák's metalworking department uses its capacities in a flexible manner and is ready to meet varying customer requirements and visions. It concentrates on locksmithing work, producing semifinished products and finished metal components, mainly – but not exclusively – for the furniture industry. Via its long-term partners, it can also supply technologies such as galvanizing, chromeplating, laser cutting, CNC milling and turning. A nonnegligible share of its production lies in metal elements
Kovovýroba Krošlák narába so svojimi kapacitami flexibilne a je pripravená realizovať rôznorodé požiadavky a vízie zákazníkov. Zameriava sa na zámočnícke práce, výrobu polotovarov a hotových kovových dielov najmä pre nábytkársky priemysel, ale nie výlučne. Cez dlhodobých partnerov zastrešuje aj technológie ako zinkovanie, chrómovanie, pálenie laserom, CNC frézovanie a sústruženie.
supplied in-house for the Krošlák, s. r. o. upholstery division, which launched its own brand and product line of upholstered furniture, Arteston, in 2018. This marked the start of its process of transformation from a manufacturing plant to a product-based company.
Krošlák is an ideal partner for long-term cooperation, where high-quality product finishes and an ideal geographical location in Central Europe can be valued.
Nezanedbateľný podiel vo výrobe majú kovové elementy dodávané interne pre čalúnnickú divíziu Krošlák, s. r. o., ktorá v roku 2018 uviedla vlastnú značku a produktovú líniu čalúneného nábytku Arteston. Odštartovali tým proces transformácie z výrobného podniku na produktovo orientovanú spoločnosť.
Krošlák je ideálnym partnerom na dlhodobú spoluprácu, kde sa cení kvalitné vyhotovenie produktov a ideálna geografická poloha v strednej Európe.
The commercial department will continue to focus on contracts for atypical products and semi-finished goods in medium-sized production runs. One of its ambitions and its closest objective is to build up its renown as a supplier of metalwork structures for buildings and commercial interiors.
Obchodné oddelenie sa bude aj naďalej zameriavať na kontrahovanie atypových výrobkov a polotovarov v stredne veľkých sériách. Jednou z ambícií a najbližšie vytýčenou métou je budovať si renomé ako dodávateľ kovových konštrukcií na stavby a do komerčných interiérov.
– Krošlák, s. r. o. has been working with metal since 1991,
– alongside making components for the furniture industry, its workshop has the potential to meet a wide range of demands from all types of industries,
– the company employs 230 people,
the specialist production staff have lots of experience and continue to learn about new materials and technologies. They are able to define a set of qualitative criteria individually for each client,
– communication with the commercial department and administrative staff is possible in English and German,
– the company has experience with exports to Germany, Switzerland, Austria, Benelux, France, Denmark, the Czech Republic, Russia, but also works with local Slovak brands,
– uses an open IT system.